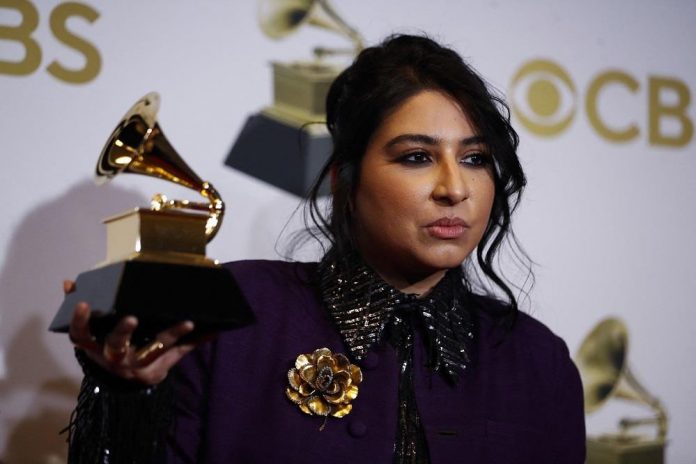 Arooj Aftab ascended new heights on Sunday – she won a Grammy, that too, after being nominated twice for the first time at the 64th annual Grammy Awards in the Best Global Performance and Best New Artist categories. For a Pakistani, being nominated was nothing short of a milestone but the singer ended up bagging the Best Global Performance award for her performance of Hafeez Hoshiarpuri's Mohabbat karne wale, previously performed by the likes of Mehdi Hassan and Farida Khanum.
The song, performed as Mohabbat by Arooj, is part of her album Vulture Prince, and also made its way to Barack Obama's 2021 summer playlist well before being nominated by the recording academy. So, when Arooj finally picked up the prestigious trophy for her iteration of the ghazal, Pakistanis flocked to their social media handles to revel in her victory. But while the applause was deafening, there was also slight chit-chat about her Grammy acceptance speech being "inadequate", particularly in the Pakistani music circles.
Her speech did not seem to have struck the right chords with musicians and music lovers – particularly those familiar with Mehdi Hassan's version and Hafeez Hoshiarpuri's body of work. Arooj, whose penchant for ancient wisdom peaks through her music, did not mention either one of the greats while receiving the award, instigating a vigorous debate online, as well as on Pakistani musician WhatsApp groups. Some even felt deeply offended by her comparison of the category she won in to 'yacht parties' during her limited time on stage, while "snubbing" or "not finding the time to credit" the ancestors she referred to in a follow-up interview moments later.
"I think I'm gonna faint," Arooj said, first thing on stage. "Thank you, this category itself has been so insane. Should this be called Best World Music Performance or should it be called Yacht Party category? Anyway, thank you so much, to those who helped me make this record, all of my incredible collaborators, for following me and making this music that I made about everything that broke me and put me back together. Thank you for listening to it and making it yours."
While speaking to the recording academy on the red carpet, Arooj said about her speech, "I feel like I was nervous, this is a life-changing moment for me. I can't believe any words came out of my mouth at all." Upon being praised for her "amazing" music, she acknowledged, "A lot of respect to those who came before us, it's really important for me. Our ancestors, our ancients, they live on cosmically and they continue to make music through us."
Unimpressed, renowned Pakistani guitarist Faraz Anwar took to his Facebook to write, "Gana Mehdi Hassan ka, award Arooj Aftab ka, wah re wah duniya. She did not even mention Mehdi Hassan's name, congrats Arooj, well done!"
While many argued that Mehdi's was an iteration too, Faraz, among several others, claimed Mohabbat offers a different arrangement but the same melody. He told The Express Tribune, "She should have mentioned Mehdi Hassan's name because the song, the melody was composed by him and it's unethical of her to not do so. In her video description, she says it is composed by her. She has composed the new track arrangement, not the melody, the melody is the same [as Mehdi Hassan's]."
The jury, nonetheless, was out in the comments section of his post, and several spoke in a similar vein at lengths on social media, especially since Arooj had won in the Best Global Performance category – 'performance' being the key word. The Express Tribune, thus, reached out to musicians, who chimed in on the matter.
While former pop band Strings' front man Bilal Maqsood requested that everyone "let [Arooj] enjoy this moment," Tehzeeb Foundation patron and music producer, Sharif Awan, whose album Indus Raag was Pakistan's first indigenous entry to be shortlisted for the 57th Grammys, told The Express Tribune, "As Pakistanis, we should be happy. If Ali Sethi sings Farida Khanum's songs, he should not be judged by Farida Khanum's standards. The new singers, the youngsters who are reviving ghazals, I support them. Our classicists are critical of them. People who say, the way Mehdi Hassan sang, he or she did not, but Mehdi Hassan has done his job. The modifications brought by the new generation are necessary for music's development. The ghazals were becoming a thing of the past. For 30 years after Mehdi Hassan, nobody touched that ghazal. So, credit goes to these young people."
About the elephant in the room, Sharif maintained, "I can't say Arooj should not have named Hafeez or Mehdi sahab, but it also depends on how much time she had on her hands. Sometimes, there is a time constraint. And if someone like Ali Sethi had received the award, being aware of the psyche of our people, he would have named the artists he took inspiration from. But a girl, who hasn't been in Pakistan for 15 years now, it's probable she isn't aware of the sensitives of Pakistan's music circles."
He went on to scold that "if people really wanted to blame someone, they should blame Rahat Fateh Ali Khan, Atif Aslam and every other commercial artist who is earning endlessly from this country but isn't investing in a single good marketing company in America that can promote Pakistani music abroad."
Guitarist Khurram Waqar, albeit, held an opposing viewpoint. "It's a good feat in terms of her winning a Grammy. She did not win for an original composition which is totally fine," he said. "But she should have mentioned the songwriters and composers in her speech rather than referring to yachts. I felt it was quite disrespectful and showed a complete lack of empathy towards our culture."
He went on to insist that Arooj failed to "show any spiritual element," especially since "it was the right time to showcase the depth of our culture and she failed miserably by comparing a category to a yacht party, showing an elitist side. It looked like a sham. All the best to her."
Sounds of Kolachi front man Ahsan Bari held, "It's a big moment for Arooj and Pakistan. She should have mentioned them, it would have been nice, maybe she forgot, maybe she was under a lot of pressure. I can't say much." But he pointed out, "The tune in question is the same tune Farida Khanum jee has sung, what Mehdi Hassan sahab sang was also an iteration, and Arooj has credited the poet on her YouTube. We don't know about the composer yet. But all this hullabaloo, does one have to give credit to all the people who used the tune? It's like a jazz standard, there is one composition and several people can perform it, any rendition can receive an award."
Tina Sani, who's been "fortunate enough to have received a handful of awards" herself, maintained, "I was never expected to single out a particular song unless I was awarded for it. A few times, that a song was nominated, I mentioned the lyricist and the composer. But these are very short and curated acceptance speeches, especially on such platforms. Her song wasn't nominated, her performance was."
She also assured that Mohabbat may have brought Arooj into the limelight but she's got quite a large body of original work which she is sure "was carefully scrutinized by the jury before it nominated her for Best Performance." The award is for "how well you can sing, express and emote a song… any song," she concluded.
Point to ponder
Since the ghazal is based on the Hindustani classical raag Khamaj, which many ghazals and thumris are based on, two or more melodies can sound different while being in the same raag. Especially since raags are a set configuration of notes and different combinations within a set can classify as a melody.