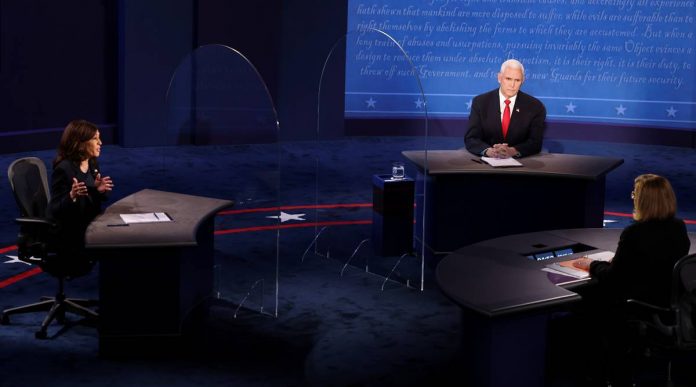 The first and only vice-presidential debate had everything that the Trump/Biden debate lacked. It was structured, policy-based, and was not centered around personal attacks. This may be credited to the fact that both Vice-Presidential candidates are seasoned politicians, and former attorneys.
The first segment of the debate was America's handling of the coronavirus. The US has both the most confirmed number of coronavirus cases and deaths. Harris tried to hold Pence, who is the White House Coronavirus Taskforce leader, accountable for the Trump administration's failure to control the virus, by saying "the American people have witnessed what is the greatest failure of any presidential administration in the history of our country."
Pence defended his administration's response to the virus by repeatedly claiming that if Trump did not ban travel from China early into the pandemic, there would be many more than 211,000 American lives lost. He rebutted almost everything Harris said by simply saying Trump "has put the health of the American people first." He also claimed that the Biden administration plan for dealing with the pandemic is so similar to that of his administration, accusing them of plagiarism. He said, "looks a little bit like plagiarism…which is something Joe Biden know a little bit about."
When the debate turned to economic issues, Pence, like Trump in the first debate, promised 2021 would be the best economic year in the history of the United States. Harris disputed this by arguing that Biden's administration would not be raising taxes for those making less than $400,000 annually. Kamala also pointed out that according to Moody's, a reputable Wall Street firm, Biden's economic plan will create 7 million more jobs than Trumps plan.
Later in the debate, Pence pressed Harris about whether her and Biden's administration would pack the court if they won. Like Biden in the last debate, she did not directly address the question, but deflected and talked about how Abraham Lincoln didn't nominate a supreme court judge in election year, when there was a vacancy, referring to Trump's idolization of Honest Abe and him nominating Amy Coney Barrett.
It is important to note that when the moderator asked Pence if he'd commit to a peaceful transition of power, he, like Trump, did not say yes. He once again did not answer the question directly, raising concerns that the current administration will not concede if they lose.
This debate made it clear that both Harris and Pence are much better debaters than the men leading their ticket. Although there were some moments of tension, both candidates stuck to policy issues and, for the most part, followed the debate rules and decorum.
We can't forget what the highlight of the night was — the fly! There was a fly on Vice-President Pence's head for two whole minutes. This "fly moment" took twitter by storm and was the most memorable part of the night.