As the league stage of the National T20 Cup came to an end, it also draw the curtain on one of Pakistan cricket's greatest servant. It was not a fairy tale ending for Umar Gul as Balochistan were thrashed by Southern Punjab on Friday. Gul finishes his career with 427 scalps in 237 matches across all formats and holds a place among the greats of Pakistan cricket.
Just like many other before him, Umar Gul rose to fame with his performances at the Under-19 level. He was one of the brightest spots for Pakistan in the U-19 World Cup in New Zealand in 2002. He picked up crucial wickets. In total he grabbed 11 scalps in 5 matches.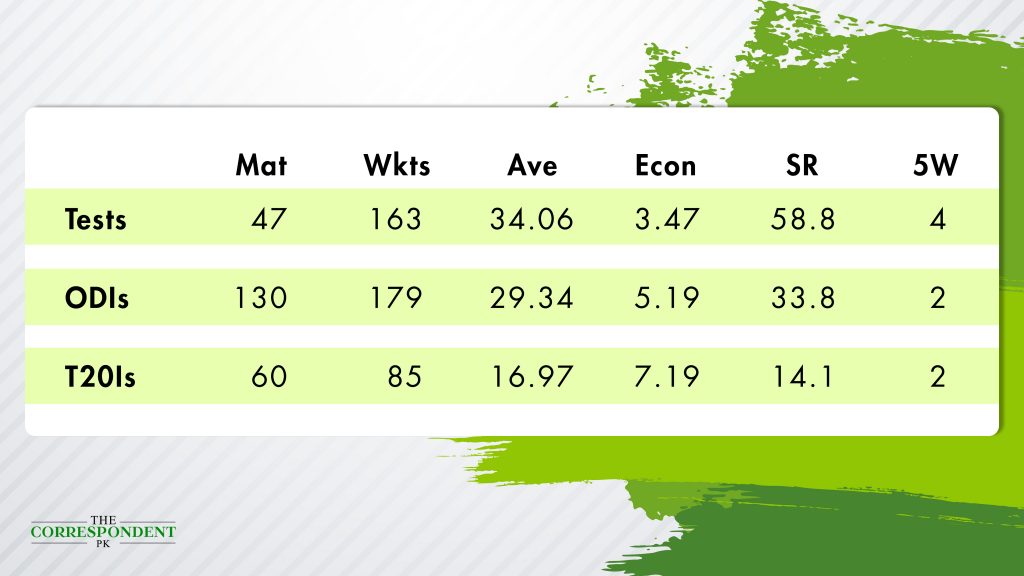 After a disastrous World Cup campaign in 2003 where Pakistan failed to make it to the second round, and the retirements of Wasim Akram and Waqar Younis forced the selectors to look at new talent. Looking to build a new team for the future many youngsters were injected in the system. Umar Gul was also named in the squad which was due to participate in a quadrangular cup in Sharjah.
Gul credits the Under-19 experience for his growth as a cricketer. "I was on the verge of walking away from cricket after a poor 2000-2001 domestic Under-19 tournament following which I was not selected in the Pakistan Academies team. But then I gave myself a last chance, worked hard by attending the Academy side`s training sessions as a net bowler until I was picked in the fast bowlers` camp that was supervised by Daryl Foster."
He continued, ''Lady Luck finally smiled on me when I was selected in the Pakistan squad for the ICC Under-19 World Cup 2002 and though the event turned out to be a poor one for us, personally I benefitted as I regained my form, picked up some key wickets and when changes were made in the Pakistan side following a disastrous ICC World Cup 2003, I was able to find my way in the side."
Gul made his ODI debut in the first game of the series. He had a good outing with the ball as he finished with figures of 25 for 2 in his seven overs. Impressive start to his limited over career saw him being picked for the test series against Bangladesh. He grabbed the opportunity with both hands and picked up 15 wickets in 3 test matches.
His best performance of the series came in the famous Multan test where he bagged 4 wickets in each innings. Gul bowled an astonishing 117 overs in soaring August heat, giving a good account of his fitness and determination at a young age.
Gul might not be as talented as his predecessors but he surely had the guts and spirit, and that too in abundance. Even when the chips were down you would see him giving his hundred percent on the field. In a career spanning almost 20 years, not one person has questioned his work ethic and passion for the game.
Gul's greatest strength – or strengths – was his ability to do all the simple things well. His natural length was short of full where he troubled the batsmen. Having said that whenever he bowled fuller, he was unplayable most of the times. He could nail all the fundamentals in sync: hammering out a length over after over, testing batsmen patience and in the death go to toe crushing Yorkers.
After a successful year at the highest level, Umar Gul never looked back and was a permanent feature for Pakistan in all formats. His first fifer in test came against India In Lahore in 2004. Pakistan were coming in to the test on the back of a crushing defeat in first test and needed to level the series. While his fellow pace bowlers, Shoaib Akhtar and Muhammad Sami bolwing at 150kph couldn't find any purchase from the pitch, Gul quietly decimate one of the greatest battling line –ups on his own.
Umar Gul always troubled the batsmen with the new ball and was absolutely lethal when it came to bowling with the old ball. As many other before him, Gul was a great exponent of reverse swing. Gul when asked about his prowess with the old ball said
"I bowl two spells always in practice, with a new ball and then with an old ball. When I learnt reverse swing, I learnt by watching videos of Wasim and Waqar and their techniques. You can't just have an old ball and reverse swing it, you have to know how to do it."
When it came to cricket's shortest format, Umar Gul was in a league of his own. It won't be wrong to say that he was the one who set the template to bowl in T20's. His performances were pivotal in Pakistan's dominance in the early part of T20 cricket. He was the highest wicket-taker in the first two editions of the T20 World Cup. He finished 2007 and 2009 tournament with 13 wickets each. In a format, where consistency is hard to find Umar Gul was bowling six Yorkers on the trot.
Who can forget the dismissal when he sent MS Dhoni's leg-stump cartwheeling in the final or his deadly spell against the Kiwis in May 2009 where he finished with outrageous figures of 5 for 6. A month back he decimated Australia and ended with 4 for 8.
Last month the International Cricket Council (ICC) released its all-time Twenty 20 rankings and Umar Gul was leading the list with 857 points (highest achieved by any bowler in the format). Having played his last T20I for Pakistan in January 2016, he still is at number five in all-time leading wicket takers with 85 wickets and still has the best average for any fast bowler to feature on the list.
As a batsmen Gul was never the one to shy away from a challenge and could send the ball in the stands. He played many crucial knocks for his country down the order. A test half century to his name is a prove that he was no mug with the bat.
The 36-year-old is considering getting in to coaching. He has already done level one and two coaching courses and also looks set on doing level three in the near future. It will be great opportunity for the upcoming youngsters to learn from someone of Umar Gul's experience and calibre.
The problem is that persistent players are not as memorable as headline-grabbers and so Umar Gul is often eclipsed by others, especially in a country like Pakistan where we are so drawn to drama. It is a Pakistani dilemma that great sportsmen only get recognition when they are gone and Gul is likely one of those good things we never really appreciated while we still had him.