It is often suggested that we as a nation are obsessed with cricket; few would argue against it. Passion, however, cuts both ways. Where we lift our players to high heavens and make national heroes out of them, we are also quick to discard those who fail our lofty standards, consigning them to a prison of our iron-clad judgments.

Shan Masood know all to well the caprice of this double-edged sword.
Last week, Misbah-ul-Haq announced Pakistan's squad for the home series against Zimbabwe. Among many who couldn't make it, Shan Masood is the least discussed. Despite being one of the top performers in the domestic circuit, the selection committee still doesn't rate him in white-ball cricket.
Perhaps we should consider his case again.
Shan Masood made his test debut for Pakistan in 2013 against South Africa in Abu Dhabi and impressed one and all with a commanding 75 in the first innings. Even after a bright start to his career he couldn't cement his place in the team and was dropped several times in the coming years.
Making a comeback in to the team, England's summer of 2016 turned out to be a disaster for Shan Masood. In the two tests he played, the left-hander could only manage to score 71 runs in four innings as he had no answer to James Anderson wizardry with the ball. And so it felt like another promising talent will never fulfil his true potential, just like so many others before him.
As they say 'In the midst of every crisis, lies great opportunity.' It would have been far easier for Shan Masood to move on by saying that he got outclassed by one of the greatest bowlers of all time but he realised that there are some major flaws in his techniques and to survive in the international arena he needed to work on them.
To sort out his batting issues, Shan turned to Gary Palmer, a former Somerset player now turned coach. Palmer in the past has also worked with Alaistair Cook and helped him in reviving his career. Gary is a firm believer that an open stance by batsmen prevents them from falling towards the off-side. And thus began vigorous long training sessions for making the adjustments and creating muscle memory.
Come the domestic season next year, Shan Masood was piling runs. While playing for United Bank Limited in the departmental one day cup 2016-17, Masood scored 420 runs in just 7 games. Next year, he amassed 632 runs in 9 games in the same competition and led his team to the title. Here is a look at his performance in the domestic one day cup.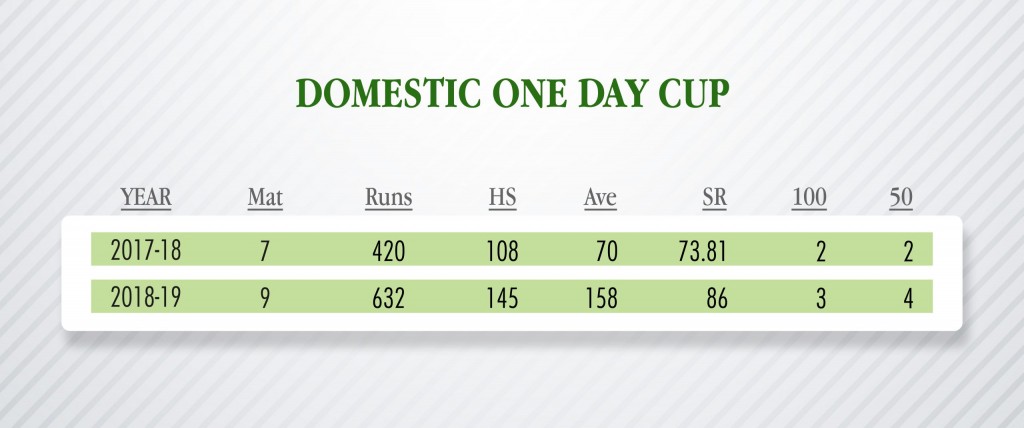 Speaking about his hard work behind the scenes Shan lauded Gary Palmer
"Gary has made me open my stance up more, as well as stay more still at the crease so that I'm not on the move by the time the ball has been delivered, therefore reducing the chance of me being late on the ball. I also have a better flow to my bat swing now. It is not as rigid and robotic as it was before. It feels more natural now and has allowed me to play certain shots better than I could before."
In February 2018, Shan Masood had a List-A average of 58.2, highest in history. He currently sits at fourth place behind the likes of Michael Bevan and Virat Kohli.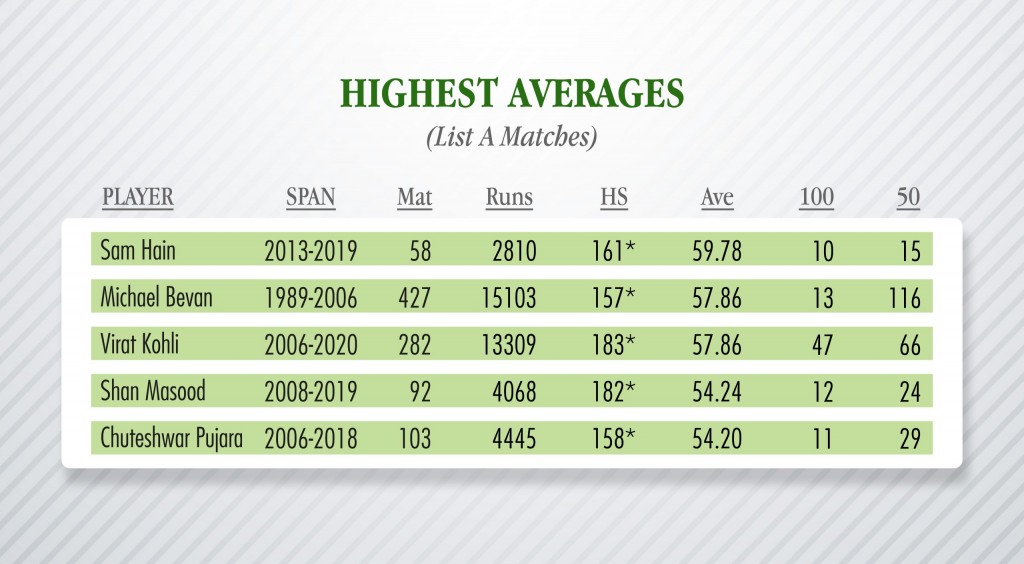 Masood now was more confident in his approach and was playing the ball soft hands. Also, the short stride helped him in not letting the ball get big on him.
His performances in the domestic earned him a call up for the test series in South Africa where he impressed again. On difficult seaming pitches he was Pakistan's best batsmen. He was later named in the ODI squad for the series against the same opposition but didn't feature in the playing XI.
His rich form continued on Australian tour as well. The way he pulled and managed the short stuff was a testament of his hard work in the nets. Although he was getting good starts but not wasn't converting them in to substantial scores. Shan, regarding this said in an interview:
"Any work you do outside the field won't matter as much unless and until you go inside and perform. That's the only thing that's going to get you better and give you the experience to take on international cricket. It doesn't matter how good you look, what matters is the runs column. I'd like bigger runs. I'm working towards it and hopefully whatever I've done in the past can reflect onto bigger runs in the future."
And the big runs came soon. During the home season where Pakistan saw test cricket returning after a gap of 10 years, Shan scored back to back hundreds against Sri Lanka and Bangladesh to cement his place as Pakistan's premier opener.
During Pakistan's recent tour of England, Shan Masood buried his demons of old for good with a superb 152 in Manchester. In the first innings of the tour he gave a good account of his defensive technique where he stood his ground against the likes of Anderson, Broad, Woakes and Archer. His first fifty runs came in 156-balls, the next fifty in 95, and his last just in 60, showing that he can change gears when necessary. Also he gave a good account of his hitting prowess by slog-sweeping and lifting the spinner for massive sixes.
Shan Masood was named as the captain of Pakistan Super League's franchise Multan Sultans for the fifth edition. For many his appointment came as a surprise. Questions were raised regarding his skills and temperament in the shortest format.
Unfazed by all of this, Shan proved his critics wrong as Multan were by far the most dominant side in the tournament and finished at top of the table. Not only he marshalled his troops admirably under pressure but also led his team with the bat as well.
He scored 253 runs at a strike rate of 128.42 and was sixth on the list of highest run-getters in the league and third in terms of Pakistani batsmen behind Babar Azam and Shadab Khan.
Table below shows how much he has improved as a white-ball player.
In the recently concluded National T20 Cup, Shan Masood led his side to the final. At the half-way stage, Southern Punjab was in tatters, sitting at the bottom of the table. A great comeback saw them win four games on the trot including the semi-final where they thumped the table toppers and defending champions Northern by 8 wickets. Shan Masood was instrumental in the chase and scored an unbeaten 78 off 58 -balls.
Shan Masood is a selfless cricketer and time and time again he has shown in his captaincy career that team comes above personal milestones and performances.
In a must-win game against Balochistan where Southern had to chase 162 in 12 overs, Shan demoted himself in the batting order to let his main hitters take the attack to opposition. People who have an idea about Pakistan's cricket culture know that captains let ego decide issues in these matters.
With a calm head on his shoulders, Shan Masood comes across as an individual who leads by example which has earned him the respect of his team mates. His continuous desire to improve his game and competitive spirit can be seen in his team as well. Also, he is one of the fittest players going around in Pakistani cricket circuit.
In the recent years, Shan has shown admirable commitment towards evolving his game, and placing cricket ­­­-­­­­­­ the most important of the important things- in context, in perspective. His hard work has paid dividend in the longest format and there is no reason why he can't duplicate this in the ODI's.
Perhaps our passion can give way to prudence and patience when it comes to the resurgent Shan Massod