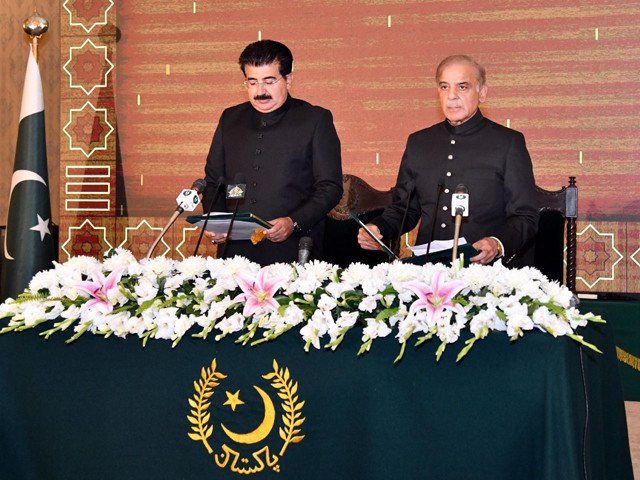 Shehbaz Sharif took oath on Monday as the 23rd prime minister of Pakistan.
He was administered the oath by Senate Chairman Sadiq Sanjarani as President Arif Alvi complained of "discomfort", according to the president's Twitter account, hours before the oath-taking ceremony.
Shehbaz was elected premier after former prime minister Imran was removed through vote of no-confidence.
Earlier, Shehbaz was elected prime minister by securing 174 votes. PTI members resigned en masse and its candidate Shah Mahmood Qureshi boycotted the election.
FIRST ADDRESS: In his first address to the National Assembly after his election as the prime minister, he announced raise in the minimum wage of government employees to Rs25,000 which is applicable from April 1.
He also announced 10 percent hike in salaries of all workers earning less than Rs 100,0000 per month, with effect from April 1. Shehbaz also announced a 10 percent increase in pensions of civil and military employees.
He also announced wheat at low rates will be provided at utility stores under Ramzan package, laptops will be given to the youth, and Benazir Card will be introduced.
ECONOMY: Regarding the economy of Pakistan, Shehbaz said if Pakistan were to progress, then it needs to be self-sufficient on the financial front.
"…we will need to protect and respect the nation as neither was a traitor nor are they traitors now," the prime minister said, noting if Pakistan's economy were to move forward, then, the government will have to use "dialogue" and not move towards a deadlock.
PM Shehbaz said hard work was required for Pakistan's progress as if only statements could move the country forward, then during PTI's tenure, "we would have been among the leading nations."
"We will need to wash out the effects of the previous government by working together, otherwise, we will fail […] our economy is in a bad situation right now," the prime minister said.
PM Shehbaz said the new government would take steps to make Pakistan an "investment heaven" for investors as he noted their capital would help the country move forward.
He announced that despite Punjab "being the elder brother" if all the other provinces remain behind in terms of development, then it is not Pakistan's development, it was just a single province's development.
"…this servant of Pakistan vows to make sure that Pakistan will develop and not just Punjab," Shehbaz said.
He said the government would reintroduce the Benazir Card and interlink it with the education sector in a bid to facilitate people whose children go to school.
"Our children should be equipped with great knowledge […] we will reintroduce this programme with consultation," he said and lashed out at the PTI government for discontinuing it.
THREAT LETTER: The newly-elected prime minister said the opposition was discussing the no-confidence motion days before Imran Khan's "concocted threat letter controversy".
"They say that this letter came to them on March 7, but our decisions were made way before that, so, if [what the previous government claimed] is a lie, then the matter should be disclosed transparently before the public," he said.
Therefore, PM Shehbaz announced that the parliament's security committee would be given a briefing on the "threat letter" to the members of the committee in the presence of the armed forces personnel and bureaucrats — the director-general Inter-Services Intelligence, foreign secretary, and the ambassador who wrote it, who has now been transferred to Brussels.
"If there's an iota of evidence that we were backed by foreign conspirators […] then with you Mr speaker and God as my witness, I will not think for another second and resign from the office of the prime minister," PM Shehbaz Sharif said, vowing to hold an in-camera session of the security committee at the earliest.
The prime minister thanked his brother and ex-premier Nawaz Sharif for his support, while also lauding social media activists, press clubs, media houses, and lawyers for backing the Opposition's struggle for democracy.
FOREIGN POLICY: Speaking about foreign policy, Shehbaz said China has been Pakistan's partner through thick and thin. "No one can snatch Pakistan and China's friendship from us," he said, calling it a "long-lasting relation."
He also reiterated that China-Pakistan Economic Corridor (CPEC) will be carried forward and the projects will move forward at a faster pace.
On relations with the United Kingdom, Shehbaz said that bilateral relations need to move forward as millions of Pakistanis live there, adding that the UK provided funding for education in all four provinces.
Shehbaz also maintained that relations with the US must also be established on equal grounds.
Speaking about India, the newly-elected prime minister lamented that despite them wanting peaceful ties with India, they know that until the Kashmir issue is resolved, relations between the two cannot be strengthened.
Urging Indian premier Narendra Modi to understand the issues of the people living on both sides, he questioned there is poverty, unemployment, medical issues, etc. then "why are we harming ourselves and the generations to come?"
He said Modi should come forward and resolve the Kashmir issue according to the will of the Kashmiris and reiterated that his government will continue to raise its voice for the people of Kashmir.