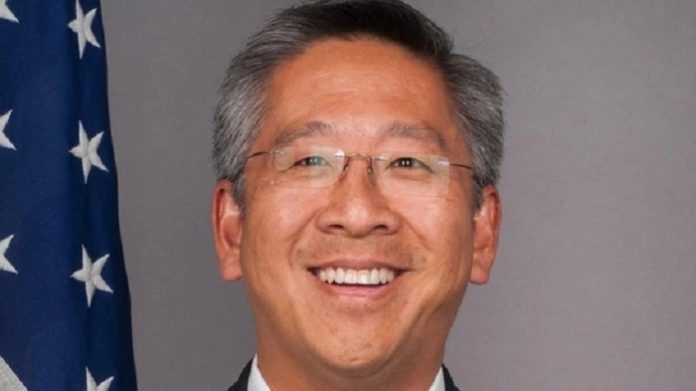 US Assis­tant Secretary of State for Central and South Asia Donald Lu, who was recently named by former prime minister Imran Khan as being the official who made threatening remarks about his government in a letter, evaded the question when asked about the regime change in Pakistan.
The State Department official, who is currently visiting India, was interviewed by the Hindustan Times.
On a question about his conversation with Pakistan's ambassador in Washington, the interviewer asked: "Imran Khan seems to suggest that you had a conversation with the Pakistani ambassador in the US and told him that if Imran Khan survives the no-confidence motion, Pakistan is in trouble and the US won't forgive Pakistan. Any response?"
Donald Lu avoided direct reply and said: "We are following developments in Pakistan, and we respect and support Pakistan's constitutional process and the rule of law."
Asked whether he had such conversation, the US official skipped the question again, simply saying: "That's all I have for you on that question."
Separately, responding to a question by a Dawn correspondent in Washington about Imran Khan's remarks regarding Mr Lu, a State Department spokesperson simply echoed the assistant secretary's words, saying: "There is absolutely no truth to that allegation."
Who is Donald Lu?
Lu is a foreign service officer with more than 30 years of US government service. He has served as deputy chief of mission in India from 2010 to 2013.
As the assistant secretary of state for south and central Asia, Lu is the top US diplomat in the state department focused on the region. A former US ambassador to Kyrgyzstan and Albania, he has also served in the US embassy in New Delhi on two separate occasions.
Lu became assistant secretary of state for south and central Asian affairs in September last year. Prior to this, he served as the US ambassador to Kyrgyzstan from 2018 to 2021 and Albania from 2015 to 2018. Before his posting in Albania, Lu worked on the Ebola crisis in West Africa as the deputy coordinator for Ebola response in the department of state.
Earlier in his career, he was assigned as deputy director in the office of central Asian and south Caucasus affairs, bureau of European affairs (2001-2003), political officer in New Delhi (1997-2000), special assistant to the ambassador in New Delhi (1996-1997), political officer in Peshawar between 1992 and 1994.