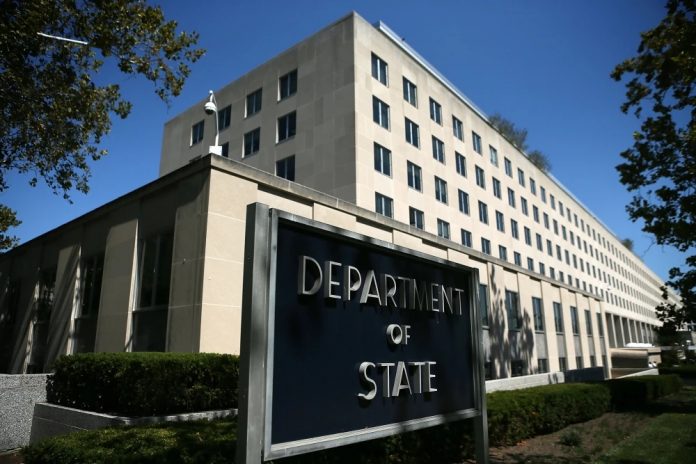 The US State Department has said that there's "absolutely no truth" in Imran Khan's claim that Washington is behind as alleged conspiracy to overthrow his government.
Imran has been claiming that his independent foreign policy has annoyed 'foreign powers' and they have financed the opposition's no-trust move against him.
In an address to the nation on Friday, he reiterated his allegations that a senior US diplomat threatened a regime change in Pakistan.
In another statement, he also named the official — Donald Lu, Assistant Secretary, Bureau of South and Central Asian Affairs in the Department of State — who allegedly threatened a regime-change in Pakistan during a meeting with the then Pakistani ambassador Asad Majeed Khan.
At a Friday evening news briefing in Washington, a journalist reminded State Department Deputy Spokesperson Jalina Porter that in his address to the nation, Mr Khan renewed his allegation that the US had encouraged the no-confidence vote, saying that he had a diplomatic cable to prove it.
"Let me just say very bluntly there is absolutely no truth to these allegations," said Ms Porter.
"Of course, we continue to follow these developments, and we respect and support Pakistan's constitutional process and rule of law. But again, these allegations are absolutely not true," she added.
A prestigious diplomatic news site, Foreign Policy, noted in its latest report on Pakistan that "the future of Islamabad's fragile relationship with Washington remains foggy after Prime Minister Khan levelled serious allegations against the United States, making it a central part of their political crisis".
The report, however, argued that Mr Khan's description of the alleged US involvement sounded more like "a US official complaining about the Pakistani prime minister, not plotting his ousting".
The Washington-based news site noted that in Pakistan, public mistrust of the United States "runs deep, in great part because there is a history of US meddling in Pakistan's internal politics".
The report warned that Mr Khan's allegations "have hurt US-Pakistan relations, especially after Khan publicly named the US official" involved in the so-called plot.
The report pointed out that their ties were unsettled before this political crisis too "as each country deepens relations with the other's top rival — Washington with New Delhi and Islamabad with Beijing".
The report warned that Mr Khan's allegation of the United States orchestrating regime change "will make it more difficult to rein in the unmoored relationship".